Adding Properties
When adding a property, other than the obvious of the full address, the ability to fully describe the property including bullet points, detailed descriptions, floors and rooms, including dimensions, descriptions and photographs. Photographs to be used on your own website and portal websites but also used when creating advertising brochures. Link floorplans and video tours with a simple click. Store EPC information along with graphs.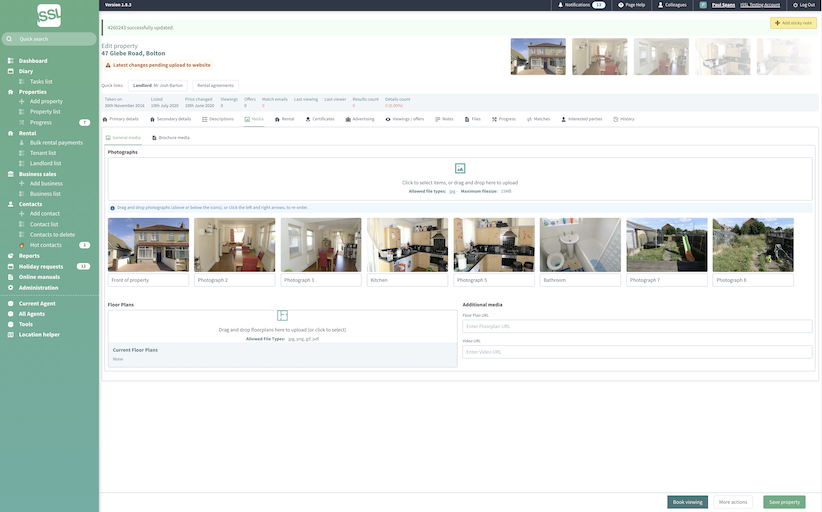 When you fully manage a property, the ability to add repairs, recurring payments (such as gardening fees), service appointments, rental reviews, along with details rental agreement financial information such as outstanding rent payments, invoices and monies owed to or by Landlords.
Features and Benefits at a glance
Add specific property information such as Double Glazing, Gas Central Heating, floors and rooms with detailed infomation such as sizes, descriptions and photos
Add photographs for use on your own website and portals, along side custom Brochures.
Add floorplans and video guides.
Client matching for optimising your contacts list
Send to portals, or not, depending on a clients wishes
Hit statistics in graphical form to view how a property is performing
Property search
Searching for properties in Standout Property Manager is similar to searching for contacts, allowing you to match against one or more individual pieces of information. This lets you perform powerful searches, from postcode, area, property statuses, which is why Standout Property Manager makes it easy.
Features and Benefits at a glance
Properties can be filtered by many criteria, including street, town, postcode, status, date added and more.
Emails can be sent with only a few clicks to all matching properties.
Robust property editing and archiving makes management simple.
Advertising brochures can be created and amended to promote properties accordingly
Property matching
Property matching is an integral part of Standout Property Manager, automatically matching a person to a property—or a property to a person. Standout Property Manager matches accurately, allowing you to use as much or as little client data as is available.
Most agents know their market, using property price as the main guideline, with a limited number of additional requirements. There are many instances, however, where particular requirements must be met—such as the need for a bungalow. This is where Standout Property Manager really shines, only showing matches for all of your requirements.
Features & Benefits at a glance
Matching is done automatically, both person to property and property to person. This means that, for example, matching at pre-listing can give you a list of potential viewers.
When a contact is added, a match report is generated. This report contains links to properties that match any specified criteria, and can be emailed to the client immediately.
Property links that are sent out direct users to your website, generating more traffic to you, and not to the property portals where competitor properties can be found.
Because property matching is automatic, buyers and tenants can be informed within minutes of new properties becoming available, becoming just one part of the level of service you provide.
The automation of emails ensures no-one forgets. Not even a click of a button is required, and once a property is available it is marketed via email in the next update to relevant contacts.